Longtime UA Supporters Create Dean's Chair with Gifts of Appreciated Stock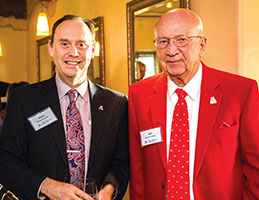 Dean of the College of Ag and Life Sciences, Shane Burgess (left), and Bob Charles (right)
University of Arizona donors Robert and Julia Charles, or Bob and Judy, recently used appreciated stock to create the Charles-Sander Dean's Chair in the College of Agriculture and Life Sciences (CALS). With consultation from our gift planning experts, the couple also structured the gift to provide income.
"Our office worked with Bob and Judy's accountant, and that collaboration was key to making this gift a win-win for the donors and the University," said James Krogmeier, the University of Arizona Foundation's associate vice president of gift planning. "Using appreciated stock for charitable gifts can provide substantial tax benefits."
The couple managed the first McDonald's in Boulder, Colorado, which they later owned. Bob Charles eventually operated 13 McDonald's franchises and is perhaps best known as co-creator of the McDonald's Happy Meal.
The name of the new chair also honors Eugene G. Sander, the 20th UA president and former dean of CALS. He was responsible for attracting a record number of CALS endowed chairs and professorships. The new chair will support programs focused on innovation, entrepreneurship, and student leadership.
Dean Shane Burgess, who is also vice president of agriculture, life and veterinary sciences, and Cooperative Extension, is its first holder.
"I am especially honored to be the first chair holder because of my great respect for all that Gene accomplished as CALS' longest-serving dean and for all that Bob and Judy have done in their lives that inspires me," Burgess said.
© Pentera, Inc. Planned giving content. All rights reserved.
Disclaimer