Giving the World a Future Without Cancer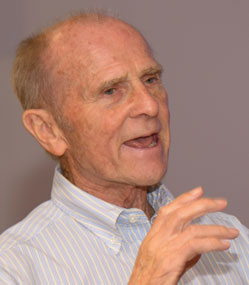 Jim Cockrum built his career solving difficult problems. Maybe that's why the quest to find a cure for cancer doesn't intimidate him.
"My first job threw me into computer programming in 1960. Everything was unexplored, and there was no place to turn to for solutions. We didn't know that something couldn't be done; we just did it," said Cockrum, now retired from IBM.
When Jim and his wife Maria made a giving plan, cancer research rose to the top of their priority list. After learning about several University of Arizona programs, they chose to fund an endowment for the UA Cancer Center's Biology Graduate Interdisciplinary Program through a bequest as well as making an immediate gift.
"It exactly matches our interests," he said of the program, which trains students earning doctoral degrees in cancer biology, the comparative study of the biology of normal and cancerous cells and tissues, to conduct innovative research.
The couple's endowment will be used to attract the brightest students to the Biology Graduate Interdisciplinary Program and empower them to serve as cancer research pioneers, now and in perpetuity.
"We hope this endowment can provide the support to not only pursue but succeed in providing a cure in this, the most horrible of all human maladies," said Cockrum.
© Pentera, Inc. Planned giving content. All rights reserved.
Disclaimer