Gift Annuities from Eleanor Thomas Support Cancer Center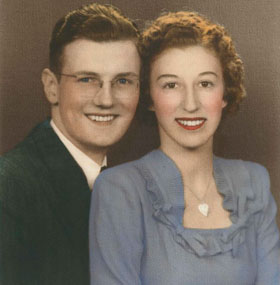 Reverend David R. Thomas and Eleanor M. Thomas
Eleanor "Dorothy" Thomas lived a good, long life as a minister's wife. She taught high school English, loved dogs, and always was ready to help people until she died last summer at the age of 94.
Dorothy held many things dear to her heart and always wanted to make the world a better place. She admired the work being done at the University of Arizona Cancer Center, and she held their research in high regard.
Established in 1976, the Arizona Cancer Center is one of 41 National Cancer Institute-designated comprehensive cancer centers in the nation and the only one headquartered in and serving the entire state of Arizona.
The NCI's highest designation is reserved for centers focusing on patient care as well as basic and clinical research, prevention, education, outreach, and training. Dorothy had a particular interest in the Cancer Center's 73 research labs which work to bring the power of research to cancer prevention and treatment by providing a direct link between the latest research discoveries and patient care.
Dorothy funded 10 charitable gift annuities during her lifetime which provided her with additional income. Then, through a generous and thoughtful estate gift, Dorothy established the Reverend David R. Thomas and Eleanor M. Thomas Memorial Endowment Fund for Cancer Research so the UA will continue to produce amazing discoveries in cancer research and beyond.
© Pentera, Inc. Planned giving content. All rights reserved.
Disclaimer