Prudence Haney Honors her Mother's Legacy as a Teacher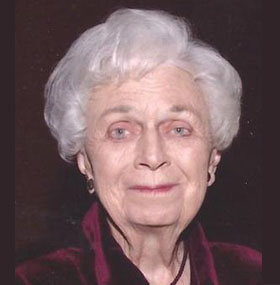 Prudence Myrland Waid Haney passed away on August 10, 2014. She was born August 1, 1921, in Keokuk, Iowa, to Imogene Johnson and Otto Eugene Myrland. The family moved to Tucson in the early 1920s.
Mrs. Haney graduated from Tucson High School class of 1939 and was a University of Arizona alumna with a B.A. in Psychology ('42) and an M.Ed. ('57). She was a member of Chapter E of P.E.O. since 1946, a founding member of the UA College of Education Erasmus Circle (whose members build excellence in the College of Education), a member of the UA Foundation, along with the President's Club, and a member of the Kappa Alpha Theta sorority. Needless to say, philanthropy and service were in her blood.
In 2006, Mrs. Haney and her family proved this once again by honoring her mother with a gift supporting the UA Norton School of Family and Consumer Sciences. The school's Imogene Johnson Myrland Lobby honors Mrs. Myrland as a pioneer in preschool education in the state of Arizona and an innovator in education, child welfare, parenting, and community-building.
As a teacher in Tucson, Mrs. Haney taught and served the Tucson Unified School District for 34 years spending several of those years as a supervisory teacher. After noticing a lack of local history in classroom textbooks, she developed classroom activities focusing on Tucson's historical facts and important events. The Tucson-Pima Historical Commission recognized Mrs. Haney for her classroom efforts that have continued to influence generations of Tucsonans and engage the community to be sensitive to its historic preservation.
In addition to her local educational contributions, Mrs. Haney was an active member of many organizations and was a steadfast believer in leaving a legacy that would help people at a university that meant so much to her.
© Pentera, Inc. Planned giving content. All rights reserved.
Disclaimer