Rags-to-Riches Donor Finances "Education Plus"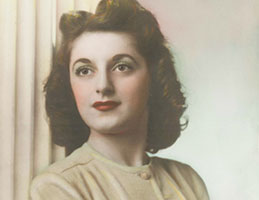 When Shirley Curson was an awe-filled youngster roaming New York's renowned museums, she marveled that people donated funds to make the exhibits possible. "Somebody did this for me," she thought. "I want to do something like that someday."
And Shirley did, launching numerous endowments that have supported dozens of students and programs in New York and Tucson, including the University of Arizona. Shirley passed away at her Tucson home on April 21, 2014, at the age of 90. In addition to including the UA in her will, she established five gift annuities during her lifetime to support her passions at the University. Estate gifts are powerful tools and can create unique legacies, regardless of your interest.
Born Shandel Dauber in New York in 1923, she was nicknamed Shirley by her sister and eventually adopted the name—later using her birth name for her "Shandel Endowments." She graduated from high school at the age of 16 but did not attend college; instead she launched her own rags-to-riches story that started in the garment district. Shirley's passion was to help students in Journalism, Judaic Studies, and the Lunar and Planetary Laboratory see the world in their future roles. She also supported Arizona Public Media, the on-campus PBS affiliate.
"My gifts should be viewed as 'education plus,'" she often said. "I want to augment what they are learning in the classroom by going outside of Tucson to visit major museums or to travel to other parts of the world. Moreover, my awards are always based on merit and financial need, because someone made these kinds of learning opportunities possible for me when I was young."
Shirley Shandel Curson leaves a great legacy among a great many people in a great many places.
© Pentera, Inc. Planned giving content. All rights reserved.
Disclaimer