Personal Journey Leads Barrett to Leave Legacy at UA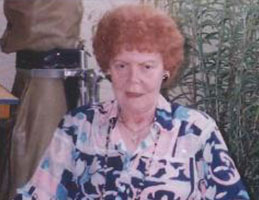 Peggy "Peg" Barrett's personal battle with cardiovascular disease and other health-related issues resulted in many trips to the University of Arizona Medical Center. The relationships she developed with the doctors and nurses who cared for her would lead Peg to create a legacy for UA medical research before passing away in October of last year.
Peg came to the United States from England after World War II. She lived an adventurous life, traveling extensively with a career in marketing and public relations. Unfortunately, due to her medical history, Peg also saw her share of different hospitals across the U.S.
After moving to Tucson in 1997, Peg began seeing Dr. Gordon Ewy, a cardiologist and Director of UA's Sarver Heart Center. He would eventually become Peg's most trusted ally. She once said, "I have been treated in many more hospitals than I wish to recall. I find the knowledge, compassion and caring of the UA physicians unsurpassed. Dr. Ewy and his colleagues are wonderful physicians."
In gratitude and to assist generations of patients with cardiovascular and other diseases, Peg established a charitable remainder annuity trust, a charitable remainder unitrust and 12 charitable gift annuities with the UA Foundation, benefitting different areas in the College of Medicine.
She also established The Peggy Barrett Distinguished Endowed Chair in Cardiology at the Sarver Heart Center. Peg wrote that her Chair was established "to make a difference and to perpetuate my enduring interest, goals and vision that will extend my influence beyond my lifetime."
Her foresight enables the UA Sarver Heart Center to provide for the training and education of future cardiologists. "Peg had been a supporter of the center for many years; her endowment not only will support the center, but more important will serve as a reminder of her incredible philanthropy," said Dr. Ewy.
© Pentera, Inc. Planned giving content. All rights reserved.
Disclaimer