Laurence J. Testasecca Endowment Supports Native American Medical Students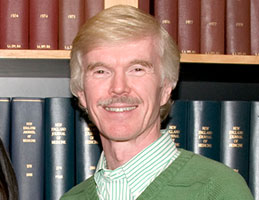 Dr. Carlos Gonzales, associate professor, family and community medicine; Thomasina Blackwater, 1st year MPH student; Laurence Testasecca; and Donovan Williams, 3rd year medical student.
From his home in Knoxville Tennesee, Laurence Testasecca is reaching across the miles to assist Native American students studying medicine in Arizona. His enthusiasm and excitement are evident in his voice as he describes his passion.
Mr. Testasecca, retired business executive and international consultant in organizational development, is fulfilling a life dream through this gift. His fund is designed to assist Native American students enrolled at the University of Arizona College of Medicine.
During a number of trips to the southwest, Mr. Testasecca was deeply touched by the culture and traditions of the nation's first inhabitants. Throughout his life this passion grew, and he searched nationally for a means to ensure that a portion of his life savings would improve the health and well-being of Indians. He counts his participation in this process an honor and is humbled by the opportunity to support future physicians dedicated to caring for a proud people who have often been mistreated.
"I cannot imagine the hardships and obstacles that many of these aspiring medical professionals have overcome to place themselves in a position to obtain their degree. Their accomplishments to date are inspiring, and to aid in the attainment of their goals is my privilege," says Mr. Testasecca. "People walk on beaches and leave footprints in the sand that are washed away by the next tide. Other people walk in the snow and leave footprints that are melted by the sun's warmth. My desire is to assist as many medical students as I am able, while I am alive and after I depart this life, so that their life-changing skills will have an impact on others that live on long after I am a faded footprint."
After a visit to campus last February, Mr. Testasecca decided to begin the joyful process of assisting students now, while he is living. The first Testasecca award was made this fall to Donovan Williams, a 3rd year student who is Navaho.
"Most native students face an uphill battle completing medical school," says Carlos Gonzales, MD, associate clinical professor of Family and Community Medicine and head of InMed (Indians into Medicine). "Mr. Testasecca's gift allows us to remove financial barriers when they arise. His partnership will enrich the lives of students and in many cases allow them to graduate."
© Pentera, Inc. Planned giving content. All rights reserved.
Disclaimer