Adrienne Adam's Legacy Lives On Through a Memorial Endowment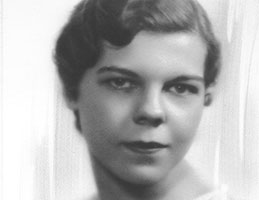 Throughout her life, the late Adrienne (Zimmerman) Adam was a strong believer in higher education and philanthropy. She worked ceaselessly to better her community and assist her family in completing their educations.
Even after passing away on Sept. 28, 2011, at the age of 100, she continues to promote the importance of giving back through the Adrienne Adam Memorial Endowment, established by a $1 million bequest to the University of Arizona Foundation. As designated by the donor, the unrestricted funds will be used at the discretion of the UA Foundation Board of Trustees to address the organization's most pressing needs.
"It is not often a donor designates unrestricted funds to the UA Foundation, but these types of gifts are absolutely critical and most appreciated," said Jim Moore, president and CEO of the UA Foundation. "When such gifts are endowed, like the memorial gift established by Mrs. Adam, they become even more integral to establishing a bright future for the institution simply because the support they provide is enduring."
A graduate of the University, Mrs. Adam '33 left her hometown of Kansas City, Kans., to become a Wildcat. Even as a UA student, she was active in the community, particularly through her involvement in the Pi Beta Phi sorority. After receiving her bachelor's degree in Spanish and returning to Kansas, she continued on this path, volunteering with the American Red Cross, chairing her church's special needs committee and generously supporting the University.
"She spent very little on herself but was committed to higher education for her family," said her son, Jim Adam, who feels a connection to the UA through his mother. "She was a believer in philanthropy, supporting charities, educational institutions and her church."
Her philanthropic legacy will live on through the memorial endowment in her name, which serves as a reminder of Mrs. Adam's noteworthy generosity and belief in the importance of education.
© Pentera, Inc. Planned giving content. All rights reserved.
Disclaimer