Honoring the Past and Investing in the Future Through a Legacy Gift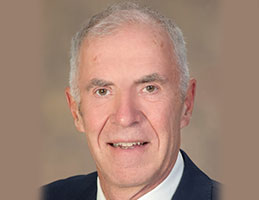 I. Glenn Sipes' respect for the value of medicine and giving began at a young age. Growing up in a small town outside of Pittsburgh, he suffered from asthma, but a local pharmacist came to the rescue by providing him with a glass nebulizer and adrenaline.
"After one or two inhalations, my bronchioles dilated, my asthma attack resolved and I could get on with a kid's activities. It was like a miracle." he said.
The assistance he received from the pharmacist resonated with Dr. Sipes, driving him to dedicate his life's work to pharmacy and medicine
After attaining his bachelor's degree in pharmacy from the University of Cincinnati and a doctorate in pharmacology from the University of Pittsburgh, Dr. Sipes went on to have a long and storied career in the field—mostly at the University of Arizona.
"The UA has been my academic home for 39 years," said Dr. Sipes, who retired in June 2011 from his post as head of the department of pharmacology in the UA College of Medicine. "It provided me opportunities for career and program development, leadership, and the satisfaction of seeing others develop—including students, fellows, faculty and staff."
In the time he spent at the UA, Dr. Sipes trained 32 master's and 30 doctoral degree candidates and mentored 28 postdoctoral fellows. His legacy as a leader in academia and pharmacology will continue well into the future through the estate gifts he has established to benefit the UA Colleges of Medicine and Pharmacy, as well as other universities and organizations.
"The funds can be used creatively to foster student and junior faculty development in the areas of pharmacology and toxicology," Dr. Sipes said of the purpose of his gifts to the UA. "As a department head for many years, I understand how important small pockets of money can be to recruit gifted students or provide short-term bridge funding for talented faculty members."
Through his giving, Dr. Sipes also hopes to honor the family, friends and organizations that helped shape his life, as well as to encourage others to invest in the future of medicine and pharmacy at the University.
"By investing in education, I also honor the many students who were responsible for much of my success," he said. An endowment is a permanent fund established by a gift today or through an estate plan. The principal of the gift is held in perpetuity and is invested through the UA Foundation. A certain percentage of the endowment is expended annually—per the UA Foundation's endowment policy currently 4%—to support its designation at the UA.
© Pentera, Inc. Planned giving content. All rights reserved.
Disclaimer