Davies' Legacy Gift Supports Parkinson's Research at UA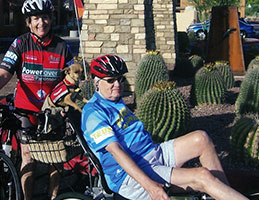 Bob Davies, 76, a retired engineer and operations manager with Motorola, was diagnosed with Parkinson's seven years ago. He and his wife, Payton Davies, 69, have since moved to Tucson and actively promote a healthier lifestyle for those living with the disease.
Understanding the importance of exercise, the Davies quickly became involved with a local support group that provides a way for those dealing with the disease to connect with one another through exercise and therapy. Payton, a retired airline stewardess with United Airlines, currently runs the support group.
"We feel that exercise is the best way to keep people with Parkinson's strong and healthy," she said. "And we have a very excellent exercise group."
The move to Tucson also brought them in touch with Dr. Scott Sherman, an associate professor of neurology at the University of Arizona Health Network.
In addition to treating patients like Bob and lecturing in the classroom, Dr. Sherman also heads a research study based on cell-therapy for Parkinson's. In support of Dr. Sherman's work, the Davies designated a percentage of their charitable remainder unitrust to an endowment funding his study.
"We support Parkinson's research because Bob and I feel researchers are close to finding a cure, or at least find a way to fight the symptoms." Payton said.
The Davies' receive life income based on a specific percentage of the trust's market value, revalued annually. Through the trust's future remaining balance, the Davies will be able to further assist in this crucial research for Parkinson's disease at UA.
© Pentera, Inc. Planned giving content. All rights reserved.
Disclaimer