A Brother's Gifts Preserve a Distinctive Body of Fashion Photography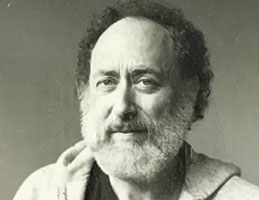 Until 2016 George Silano of Sag Harbor, New York, had no relationship with the University of Arizona. A year later, he'd made two major gifts to the Center for Creative Photography—the archive of his brother's work and a gift in his will representing a significant portion of his estate.
When Silano met Chief Curator Becky Senf, he decided the CCP was the best home for the prints and working materials he inherited from his brother Bill Silano—a prominent fashion photographer. Soon after, he made the planned gift to support fashion photography in Bill's honor.
"It was because of Becky's enthusiasm for photography and her impeccable eye. When she saw Bill's work, she understood it had a position in the history of fashion photography," said George.
Bill's active period began in the 1960s and continued to the 1980s. His photos appeared on many Harper's Bazaar covers as well as editorial spreads for Italian, French, and British Vogue, French Elle, Mademoiselle, Glamour, Town and Country, and notable album covers.
Surreal and eye-popping. Iconic and innovative. These are words George and the media use to describe Bill's photos.
Senf calls them "bold and decisive," and she's excited for the moment when the CCP will exhibit the photos as well as related items—including the magazines in which they appeared and original transparencies.
Fashion photography acquisition is a priority for the CCP, said Senf. The archive of Louise Dahl-Wolfe and a strong Richard Avedon collection were the center's existing cornerstones. Adding Bill's materials brings more dimension and opportunities to make meaningful comparisons between the artists.
And fashion photography's scholarly potential goes beyond the discipline of photography.
"It reflects cultural attitudes, aspirations, and values. It records diverse expressions of identity, including race, religion, nationality, gender, and sexuality. By preserving and exploring these archives, we can better understand a visual language that remains integral to the cultural conversation," said Senf.
The CCP's focus on fashion photography is rare among academic institutions, she said. Many don't appreciate its merit because of the commercial aspect.
George agrees; he thinks people often find fashion frivolous.
"But Bill's photos are enduring in their own right in terms of composition, use of color, and expression," he said.
"I'm just amazed at them in terms of how the texture and all the elements played such a big role. When you see one of Bill's photographs, you know it's his work. You don't have to search for the credit."
© Pentera, Inc. Planned giving content. All rights reserved.
Disclaimer