Carpenters' Endowed Gift Creates Lasting Legacy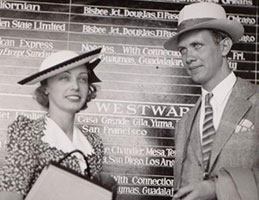 Ralph and Jan Carpenter's last and greatest gift to the UA was a bequest through their estate. The affinity they felt towards the University of Arizona resulted in leaving a legacy to their alma mater. In 2011, The Ralph E. and Jan H. Carpenter memorial endowment funds were created.
In 1934, Ralph Carpenter arrived in Tucson on a railroad car with less than three dollars in his pocket, determined to study journalism at the University of Arizona. Little did he know he'd also find love when as a junior he met Jan Hemenway, who was studying cello and composition at the UA. Only two days after her graduation, the couple married and officially started their lives together.
The Carpenters began a life filled with travel and adventure. While working for Grace Lines, Ralph sailed the ports of South America while Janice was a secretary in New York City.
After the Japanese bombed Pearl Harbor, Ralph joined the Navy and served three years in the South Pacific. After the war they settled in central California.
After Ralph worked for the newspaper for four years, he became a successful salesman for a health and life insurance company, with Jan as his secretary. Their family was growing—they soon gave birth to their third child. They retired when Ralph turned 80.
"His writing skills and interest in knowing more about people made him successful," said Ralph's daughter, Stacey Bieler. Those skills also allowed him and his wife to become influential civic leaders and philanthropists in music education and in establishing a local college.
Because of the Carpenters' foresight and generosity, students studying in the UA's Fine Arts and Journalism departments will receive scholarship support in perpetuity—as well as continue the legacy of two lives that turned three dollars, two UA degrees and a common dream into a mountain of influence.
© Pentera, Inc. Planned giving content. All rights reserved.
Disclaimer